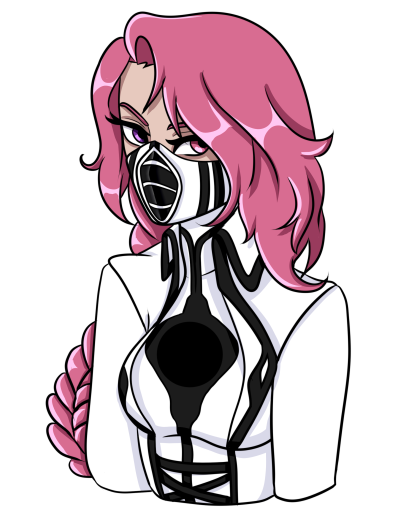 " Whoever the winner I don't care about, but right now the more pressing matter is he is let loose from his prison. This normally wouldn't be any issue of mindless killing, although the clear fact he will continue until he is bored. Even when that time comes is unfathomable for me to figure out, which means this can carry on until he ends all existence in Karakura. That is something I am not willing to gamble with because it will create a great imbalance and hazardous effect on the Hueco Mundo ecosystem. We can't rely on the God-King to deal with him every time he is set loose, but we need contingency plans to be prepared on how to efficiently deal with such situations."
Emilia's eyes had shifted in the direction of Izeel, sparks of reiatsu sigantures could be felt through out her room, yet none of them where unique to anyone new; it had been Izeels. Visually they were within her blind spots however, the difference between him and Abraam was, that Abraam was fast enough to hit from her blind spots, where as Izeel might as well been an open book in his attacks. It was the moment he fired she had disappeared, and reappeared by the pool, Abraam still in hand. Dust and debris filled the room, obscuring everyone's vision as those ceros shot outwards, shooting until Izeel deemed it enough. When the dust Settled, she had appeared above pool area that Cordelia resides in.
SPLASH



Drip
Drip
Drip



SPLASH
The water that was colourless and endless began to change to diluted red, the sound of organs falling into the pool could be heard once more, tainting it with Abraam's blood. Yet to Cordelia it must have been intoxicating, she would be like a shark drawn to the blood even more so when the organs started to sink deeper and deeper, its scent growing stronger as comes closer to her. Emilia, on the other hand had been disappointed, as she couldn't save the man she had fought, but he still had a purpose, he was going to be a meal. Her zanpakutō would strike upwards forcing the pointed end directly through his skull; killing the man instantaneously before she began to absorb and devour his flesh, muscle and bone, savoring every bit of it, while his feet dangled above the pool.
" I guess that will have to wait, we are being summoned by the God-King for discussion of war. I am also interested to see how the gigai he took for test spin faired out and what other information he gained."
Her eyes again shifted, away from her meal to Izeel once more. Both hands let loose of the remains of Abraam, dropping what remains of him into the pool, as she walked towards an area of the room untouched by battle. By the time she had reached the untouched area Izeel had gone away, where too she did not care. Her hands would pull open the doors to a stand-up closet and pull out a new set of clothing, removing her damaged ones and putting on a new set, before disappearing out of the room without a word; leaving both Cordelia and the hidden arrancar to their own devices. The thought of a meeting had her weary as the first meeting had turned to a brawl, the second people had been demoted, and now the last one? What will happen next?

​