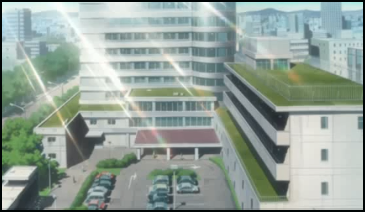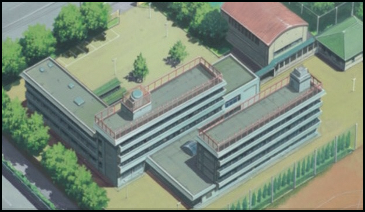 ⦿
Karakura High School
一
Karakura High School
(空座一校, Karakura Ichikou) is the school which Karakura Town residents attend. Located in the Gakuenchō area of Karakura Town, Karakura High School is a normal school containing normal teenagers. However, like the rest of the town, it contains an abnormally large amount of spiritually aware people. Surrounded by trees, the school complex consists of a number of buildings varying from one to four stories, along with open areas. The roof, which is surrounded by railings, is frequently used by students as a venue for lunch. The schools facilities include playing pitches, a six lane running track, and a gym. There are a number of clubs in the school, from soccer and basketball to Kendō. The school is somewhat famous for its strong karate team. The school's uniform consists of grey trousers, a white short and grey blazer for boys and grey skirt, white shirt with red bow tie, and grey blazer for girls. There is also a beige sleeveless jumper. The school attracts a large number of applications from delinquents.
⦿
Karakura Hospital
一
Karakura General Hospital
(空座総合病院, Karakura Sōgō Byōin) is the main medical facility in Karakura Town, located beside Karakura's Honchou train station. The General Hospital is equipped to handle serious cases and large incidents, catering to residents from both inside and outside of Karakura Town.
•
Onose River
(小野瀬川, onose-gawa)
•
Karakura shopping district
(空座 商店街, karakura shōtengai)
•
Old Karakura train station
(空座 本町駅, karakura honchō eki)
•
Karasu River
(空須川, karasu-gawa)
•
Hirohyaku Supermarket
(スーパーヒロヒャク <寛百>, sūpā hirohyaku)
•
Tsubakidai Park
(椿台公園, tsubakidai kōen)
•
Karakura Community Park
(空座 ふれあい公園, karakura fureai kōen)
•
Yumisawa Children's Park
(弓沢児童公園, yumisawa jidō kōen)