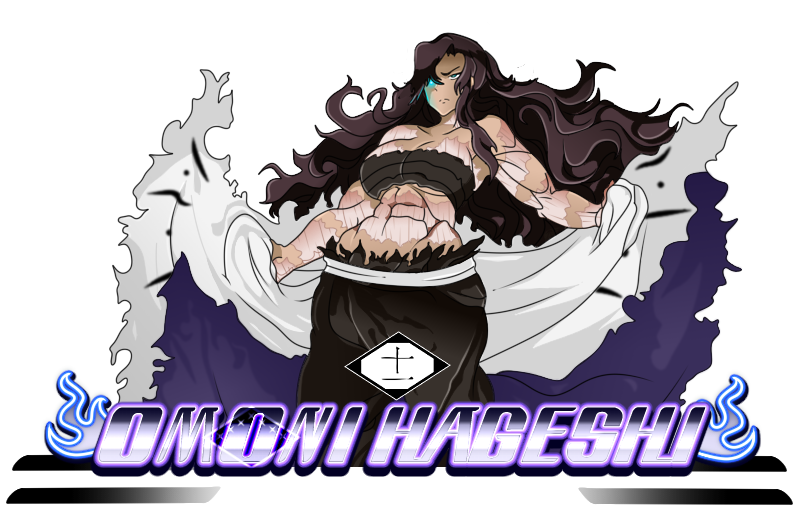 Darkness and ice were beautiful things to those who were fond of the macabre. Both were cold and lonely. That along with vines covered in thorns whipping about to hold her examiner steady made for a beautiful picture for it would all but assure that Omoni could not function without being under the duress of extreme amounts of pain and even running the risk of losing her precious Zanpakuto. All things considered, that's how things should have played out. Naturally, the Oki woman had an affinity for long to mid range fighting and so she had arrogantly determined that permitting Omoni to get close to her would be some sort of mercy but this would only be one of the mistakes that she had made.
The Valley of Screams was no place for mercy.
Much to the Lady's dismay the things that she wanted to see and the things that she
would
see were entirely different. What Honoka would actually bear witness to was going to be far more interesting! Firstly, the demonic grin of her examiner then secondly, the top of her unruly brown hair and thirdly the clear blue sky of the valley with the ground appearing to shrink further and further away. Namakizu's tendrils had gotten ahold of Honoka and held on to her ankles with an iron grip. In the hands of its wielder, the club was an extension of Omoni's very will. As beings, they could not be more different but their interests, their minds and souls were perfectly aligned and tempered with on another on the battlefield. The physical strength that the captain possessed was outright tremendous but it was never something that the Oni Empress couldn't plan accordingly for. The shock from one of her well-aimed punches had not knocked Honoka off of the ground so it certainly didn't overpower the clutches of Namakizu. Unfortunately for the Oki, she couldn't get away from Omoni that easily. As it stood,
nothing had been done to dissuade the spine's grasp
or Omoni's approach therein laid her second mistake and so unceremoniously, the examinee was flung into the air with that woman tagging along closely behind hopping along various reishi platforms. Her fantasy of magic and frost was not to be. To make matters worse, two more tendrils rose up and harnessed each of the elder's arms in the process, crushing the babbling botanics as well. Immediately after, Hageshi stretched the tendrils from the Lady's body so that all of her limbs were separated from one another and far away from the parasitic scarf. Together, Examiner and examinee were suspended leagues above the earth level with each other at a distance.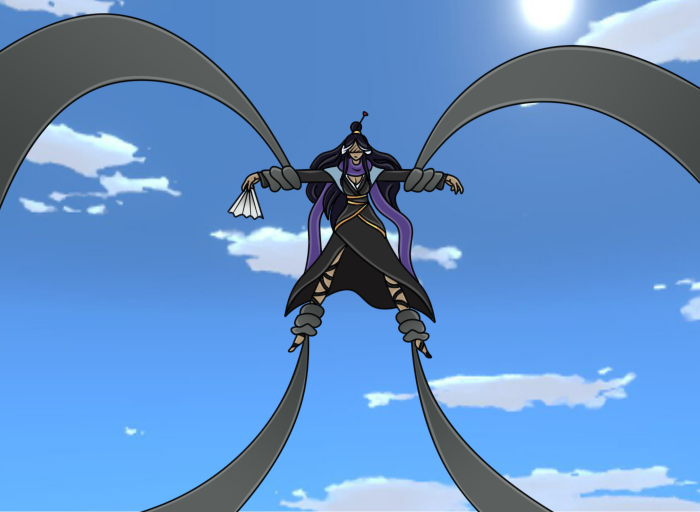 "Y'know, I used ta' hang out in the land a' the livin' all the time way back when."
Memories of a time when she was traversing the human world came flooding back to Omoni. One day stood out in particular at that moment. She'd been seated on top of an apartment complex eating a snack the kind of which she had forgotten. A young woman had left her flat to stand on her balcony where she proceeded to hang a pair of rugs out on a clothesline. Hageshi's interest was piqued by such a strange custom playing out before her eyes that she could not look away. At once, the woman began to beat the carpets like it was nobody's business with what looked like some kind of tool. Clouds of dust and debris burst free of them only to float away listlessly into the atmosphere. Something that she noticed was that when she used one of her hands, the rugs barely flinched but soon the girl must have gotten impatient because she switched her tactics and instead utilized both of her hands. This caused the rugs to flail about as if they were prisoners being tormented. That day had been a good day.
"No one else knows…feels so good to let it out cause' aint' nothin' no one can do about it now!"
One hand had been holding onto the hilt of Omoni's Zanpakuto initially but now there were two. Usually, the brutish hag maneuvered Namakizu's obesity with astounding ease using just one of her arms as if it were as light as a feather but for anyone who was unfamiliar with crossing blades consistently with her, this would have likely been overlooked.
"Saw this girl, beatin the livin' hell outta a rug. When she used one hand it didn't even twitch but if she used two…"
Hageshi turned a wide, wild and crazed stare in Honoka's direction with a similarly gaping grin stretched across her blemishless face. It was a derranged gaze. The grip on her Zanpakuto visibly tightened and she brought it back so that it was positioned just above her head and her shoulder.
"I wonder what would happen to ya'…if I used two hands ta' beat the livin' hell outta'

you

."
The spectacular spell caster's limbs had been stolen from her rendering her ability to aim her enchantments properly null and void. Her exceptional agility and ability to flee from Hageshi's incoming onslaught was robbed from her as well along with any semblance of Hakuda that may come to her rescue. In addition to this, the cherished violet scarf that had devoured the reiatsu that the captain delivered to it was left without direction to hang on Honoka's shoulders, elephantine and nothing more than an article of clothing on her person. It's weight no matter how unmanageable would not hinder Namakizu's unyielding hold on the disgraced Oki.
WHAM
THUD
WHAM
CRACK
THUD
CRACK
Without further ado, Omoni proceeded to swing her club viciously into Honoka's stomach where her fist had previously landed and had only resulted in a minor bruise. The great Lady was second only to Hageshi in terms of durability so this wasn't a surprise to the captain but if she survived the brutalization she'd be receiving now without so much as a scratch Omoni would certainly be amazed. These six strikes were equally as concussive as the next in rapid succession and all made their mark in the same exact spot dealing devastating damage to the elder's midsection. Every spike drove deeply into muscle, flesh and bone. The sheer size alone threatened to cut the woman in half with every hit and all of its caliber was multiplied by Omoni utilizing both of her hands to get the job done and get it done it would…the monster had very few manners of attack that one could rightly consider a routine but there was one terrible technique born and bred by the captain of the eleventh herself and this was it.
"The Hageshi Thrashing"
Splayed out and immobilized, it'd become clear that although the captain was quite fond of the lady Honoka that testing her, cornering her and pushing her to her limit, be it the death of the Oki woman was her solemn duty. She wanted to fight Honoka more than anything in the world at this point but she wouldn't settle for the same smoke and mirrors and speed that the lady was comfortable with. No, Captain Hageshi needed to see
more
and if she had to, she was going to rip Honoka to shreds to drag it out of her.
"YA' BETTER QUIT HOLDIN' OUT ON ME N' SHOW ME EVERYTHIN' YA' GOT OKI! OR YER' GONNA

DIE

BEFORE THIS IS OVER!!!"

​