"The Komamura bloodline must survive!"
"You go through a lot of pain in life, the best option is to not let it weigh you down, hold your head high in hopes of a better future.."
"If there is one thing my father did teach me, is people are defined by their actions.."
"Sanyu Komamura is my name! Remember it well!."

Character Name:
Sanyu Komamura
Actual Age:
218
Physical Age:
21
Race:
Soul Born
Birthday:
October 9th
Gender:
Male
Height:
7 feet tall
Weight:
221 lbs
Blood Type:
B

Affiliation:
Gotei 13
Profession:
Shinigami
Title:



Position:
Unseated
Division:
3rd
Previous Division:
7th
Partner(s):


Previous Partner(s):
Atsuko Ise
Signy Hoshi

Base of Operations:
Seireitei

Notable Features:
Like many Komamura Clan members, Sanyu's appearance is an animal shinigami, with unusually darker fur, and a lean, muscular body.
Personality:
Sanyu is a man that despite his upbringing, sees the world in a brighter state compared to the teachings of his father. Daiki taught his son to be cautious of anyone and everything, people were often power-hungry, hypocritical, egotistical, and cruel in nature. However, Sanyu saw his father's teachings as both a blessing and a curse. If you look at the world the way Daiki did, without a doubt all of those horrible emotions are all you would get from it. So, Sanyu enjoys keeping his mind, and body, out of the darkness that consumes the world. Sanyu is always walking in the light, seeing the silver lining in things and giving some of that light to others, whoever may need it. His gentle, kind nature confuses and baffles those who meet him, but nonetheless, everyone seems to find a way to enjoy his company. Komamura would give people food, even the clothes off his back if they needed it, and dreams of a *True Heaven* for the Rukongai, where Shinigami no longer have to lie about it being a great place in the afterlife.
Due to honesty not being a common thing among his family his entire life, Sanyu has grown to hate beating around the bush. He prefers to tell people the whole truth, often in the bluntest of ways. This can be mistaken for arrogance; However, Sanyu believes the hardest of truths, can't be sweetened by the softest of lies. Sanyu was young when his father was killed, the Komamura covered the truth; they were trying to protect Sanyu as a child from the cruel reality of death. The truth however always comes out, during his years in the Academy, he finally learned the truth. His father was dead. Slain by a hollow, the Komamura had done his duty. This news broke Sanyu's heart, but he was happy the truth had finally reached him but angry at the same time. A family's lies can be so bittersweet after all.
Because of his gracious, almost saintly nature, Sanyu prefers to search for reasonable solutions rather than engage or bear witness to senseless fighting and killing. Often more times than he wants, the Rukongai is struck by Rogue Shinigami, Hollows, and other... more tyrannical people that oppress the unfortunate souls he wishes to protect. He does however consider that sometimes these creatures and beings can't be given a choice and sometimes acts of violence are a necessary evil.
Sanyu is very enthusiastic and prideful in his appearance and honor as a Komamura. He looks upon his beastly appearance as a sign of strength and perseverance. A clan as old as the Komamura pulses through his veins and he's quite optimistic as to where it will lead, as well as where it has been in the past. Inspired by his bloodline and even outward appearance, Sanyu enjoys sharing his family's legacy and historical significance to others, at least those who would listen. He always has a rather gleeful expression when others ask about his appearance or bloodline.
Sanyu has a very active lifestyle; some would even say almost hyperactive; Sanyu has gone so far as to give others lessons in self-defense at a dojo he runs in his off time in Northeast Rukongai, District 73; While he trains others out of a desire to protect them he cannot deny that a part of him does it simply because he loves the activity. Sanyu finds collecting herbs from the mountains to deliver to the 4th Division both tranquil and centering, often though he ends up running into his father's old fishing buddy, Omoni Hageshi. She has been an oddly aunt-like figure in his life, often telling Sanyu stories of adventures she had with his father; in these moments he feels as though he truly knew his father a little bit more.
Depression and anxiety are often things that torment Sanyu's mind when thoughts about his father come across it. The loss of his father weighed hard on his mother and family, including himself. In Komamura standards, Daiki was still young when he died, and Sanyu thinks often about the future he could have had, with Daiki in it, showing him the ropes... teaching him things only a father could have taught a son. When Sanyu is alone, he often finds himself looking to the sky, searching for the answers to the things going through his mind… like "What would his life be like if his father was still alive, teaching him things he knew, being there for his graduation in person, or even getting to see his grandchildren in the future…"
Sanyu despite this tragedy will not let his father's memory weigh him down, however, the blood of Saijn runs through him… but more importantly, so does the blood of Daiki.
Relatives:
Komamura Clan members

Reiryoku Level:
Immense Spiritual Power-
As if showing pride in being a Komamura boosts his latent ability, Sanyu's Reiryoku is twice that of his ancestors before him; it draws deep from his veins. Many Komamura have said Sanyu could be the inheritor of Saijin's immense strength, his pool of reiryoku stemming from a swirl of inner demons and emotions the man has. He's learned to control these and in essence, control what he does with this newfound strength.
Sensing Reiryoku:
Master-
By closing his eyes and following his nose, the most sensitive part of his body, Sanyu is capable of following Reiryoku trails left behind; a being's "Soul Scent" as he calls it. These trails of remnant Reiryoku from those that passed by enabling the Komamura to locate individuals quite easily; even those with illusionary effects are no match for this technique. The nose sees through the illusions; making Sanyu able to see where the true opponent is. Because of the distinct patterns of reiryoku, every race has, each one in Sanyu's visionary area turns out a different color in his mind as the trail reaches his nose. He is able to tell how far away something is by the colors that fade as the target gets further away. Shinigami trails appear white, or a sky blue; Hollows appear a light pink to a blood-red, Visoreds and Arrancar are prospectively a mix of both colors; However, one color appears more dominant over the other, depending on the race.
Reiryoku Control:
Mastered Control-
Sanyu has learned to control his Reiryoku to the extent he is prepared for any occasion; Oftentimes he is seen using this feat in Reiryoku mastery in his Zanjutsu and Hakuda, his best skill traits. He is capable of centering his being and extending his reiryoku into his blade, where he releases bright blue waves of Reiatsu; these waves act as an extension of his blade, with force capable of ripping anything in its path to shreds. What makes them so special, is that Sanyu can produce many of these blasts at once, one after the other in no particular pattern at all; The same could be said if he infused his reiryoku into a limb during Hakuda. Reiryoku control is a necessity used in conjunction with his Zanpakuto's Shikai.

Reiatsu:
Expert-
Exerting Reiatsu is identical to breathing for Sanyu, it is a skill that is also needed in the release of his Shikai; making up a very important ingredient in his abilities. Its presence feels like a soft breeze towards those who feel it when Sanyu is not hostile towards them; like a warm summer breeze and the smile on Sanyu's face, the reiatsu feels non-threatening in any way. However without warning, like a tornado whipping through a desolate neighborhood, the reiatsu may come alive; sharp intense pains can be felt all over one's body as if they'd gotten a paper cut millions of times at once. If one were to be splashed with water or juices after feeling this rush, they'd be affected by even greater pain. This is due in part to the shape of Sanyu's Reiatsu upon exertion.
Reiatsu Colors:
Blue
Reiatsu Shape:
Sanyu's Reiatsu appears as a cloud of misty blue that almost blends into the sky... The aura flies around Sanyu while his reiatsu is exerted, seemingly creating a sort of non-physical barrier. The clouds of reiatsu move with Sanyu; however, opponents and items can still pass through the illusionary barrier of aura.
Reiatsu Effect(s):
Damage-
If Exerted towards an enemy, or someone Sanyu intends to fight, the aura rotates faster around Sanyu and then bursts out towards those he intends to harm; they will suddenly feel as though they have been cut all over, by thousands of tiny paper cuts.
Reiatsu Type:
Standard Type

Zanjutsu Level:
Master Swordsman-
Sanyu has dedicated his life to the study of swordplay; he gained inspiration for swordsmanship by watching his father, aunt, uncle, and grandfather all training together in the yard at the Komamura clan home when he was a kid. Each one had their own special techniques, and Sanyu made it his dream to learn at least one style of Zanjutsu from each one; the only one he never had the chance to learn from was his father; however, his grandfather took his place, and taught Sanyu moves that Daiki was very well known for; moves his grandfather watched Daiki perform many times over. The way of the sword runs deep in the culture and honor of the Komamura, and Sanyu wishes to keep that tradition going.
Known Techniques:
Ono-ha Itto-ru/Kenjutsu
The other name of this technique is "One Sword". The principle of Ono-ha Itto-ru is based on single and heavy blows to overthrow the opponent. According to fighting arts states, the Ono-ha Itto-ru comprises more than 100 skills and most of them are downward cuts along the center of the body.
Iaido
Iaidō is a sword style that emphasizes being aware and capable of quickly drawing the sword and responding to a sudden attack.
Hohō Level:
Shunpo Expert-
Sanyu knows the basics of shunpo, although not a genius with it, he's always been a dedicated hard worker, having wanting to be a Shinigami like his father and great grandfather. He's trained to be able to flash step to cover long distances and obtain the upperhand against opponents that would try to fight him from a long distance.
Hakuda Level:
Expert Hakuda Combatant-
Sanyu isn't as fragile-looking as his father provoked, once Sanyu starts fighting with his bare hands, He's been known to rip even the toughest of Hierro in half, and arms and claws strong and sharp enough to punch holes into hollow's bodies. Sanyu takes advantage of his brute strength in every situation he can and is empowered with his Reiatsu, his Hakuda techniques become twice as strong. His technique is using the weight of his body, and his sheer overwhelming size to tire the foe before the foe tires him; Similar in fighting style to his father; again, taught by his grandfather.
Known Techniques:
Chōhigezutsuki (超ヒゲ頭突き, Super Stubble Headbutt)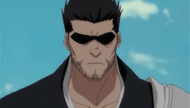 Sōkotsu (双骨, Double Bone)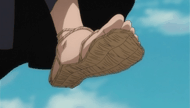 Kagamibiraki (鏡開, Mirror Opening)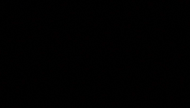 Kido Skill Level:
Kidō Specialist-
Sanyu wanted to learn different styles of Kido and studied many different fields of it. He did want to learn Kaido, to help people in the rukongai when he needed to; or at least help them better than someone who didn't have such a powerful skill. He found uses for a lot of the kido he learned in his days throughout the academy.
Known Spells:
Kaidō (回道, Turn Way)

Bakudō (縛道, Way of Binding; Viz "Binding Spell")
Sai
Hainawa
Seki
Geki
Hōrin
Shitotsu Sansen
Hadō (破道, Way of Destruction; Viz "Path of Destruction")
Shō
Byakurai
Tsuzuri Raiden
Fushibi
Shakkahō
Tenran
Skills and Abilities:
Uncanny tracking ability - Sanyu's sense of smell is much better than a normal Shinigami's, giving him the innate ability to track foes and opponents much quicker and easier, as well as enhance his sensory capabilities.

Equipment:
Danrenshinki X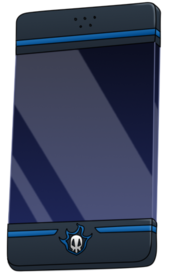 Zanpakuto Name:
Kami taigun;(Lit.紙大軍) Meaning; "Great Army of Paper"
Zanpakuto Appearance:
A standard blade, with a sheath and hilt carved from the toughest stalks of bamboo. The blade is made for swift, heavy accurate strikes against the opponent due to its near-weightless appearance and feel… the blade is so sharp, if a piece of paper were to flutter about in front of the blade, it would be split in half in one solid strike.
Zanpakuto Spirit:
Kami Taigun, or Kami, as she likes to be called, if a soft-spoken, shy being that barely speaks a word; often to break the ice between her and Sanyu, Sanyu must first make her smile or giggle before she leaps out of her shell every time he visits. It is hard for Sanyu to learn anything about Kami because of her introvert habits; However, through each visit and talk, Sanyu can feel the Zanpakuto spirit of his is slowly learning how to come out of her figurative Turtle shell.
Inner World:
The inner world of Kami Taigun is actually realistic looking, say for the 'Creatures' that live there. It is a Shinto shrine, where Kami Taigun resides and governs over the forest that shrouds and encompasses the entirety of the world. To cover her loneliness, Kami Taigun has used her papers in this world to create creatures of all kinds that resemble those in real life; Origami wolves roam the woods; Origami cranes fly the skies… anything the user can think of is found in this magical place.
Release Phrase:
"Fold, Kami Taigun!"

Shikai:
When Kami Taigun is activated, the once ordinary Katana is shifted into a near weightless version of itself; steel becomes paper, but still retains its strength as a weapon forged in fire. A thinner, sharpened edge upon the blade is just as much capable of cutting, as any Zanpakuto. Upon slashing the air, this weapon generates flakes of paper that encircle the user. The blade then becomes a conduit as well as a weapon; These papers retain their user's Reiryoku as a coat that covers their form; then allows them to transform into whatever the master wishes, the coat of Reiryoku protecting the paper from anything that could affect their transformation. Due to the paper being infused with Reiryoku, the strength of the paper could be compared to that of an Arrancar's Hierro; though not completely impenetrable, the paper creations are weaker to those of higher Reiatsu levels.
Shikai Special Ability:
Kami Taigun's ability is simple.
The Zanpakuto is made of individual papers that can scatter off of the Zanpakuto and mold and form into different beings and objects, to adhere to the user's need. Once created and summoned, these creations read the Reiryoku fed into them and start to move, like wonderous paper machinations. The paper that is made from the zanpakuto is durable, similar to that of an Arrancar's Hierro; this is due in part to every fiber being made with the user's Reiryoku. Each creation can return as their original individual sheets; it matters not if they succeed or fail in their mission, they can be recycled and created, again and again, drawing from the user's pool of Reiatsu.

Personal Relationships:
Omoni Hageshi - "Auntie Hageshi", an old buddy of his father's that he sometimes visits for fishing and swimming lessons.
Atsuko Ise- Atsuko-San, Atsuko Sou-Taichou -Sanyu sees Atsuko as the older sister he's never had, often visiting 7th division, his previous Division, to train with Atsuko and Spend time with her.
Signy Hoshi- Signy-San- Signy to Sanyu is like another sister, Sanyu often visiting her home in the Rukongai, to buy sweets and start certain conversations with her.
Likes:
Children, the rukongai, botanical plants, medicine, fishing
Dislikes:
thieves, liars, sweets, veggies
Hobbies:
Fishing, his job, playing with children
Favorite Food(s):
Meat

Biography:
Sanyu Komamura was raised by his mother and father, inside the Komamura clan walls. His father tried his best to teach the boy that once he exited the very gates that kept him safe and isolated from the rest of the world, that everyone out there looked different from those in the gates. Everyone would think him weird and unusual, in terms of outward appearance, some would even make fun of him for it. Sanyu being so young understood anyway, being educated as to why the komamura looked the way that they did. His father was a big inspiration to him, helping the injured and protecting the innocent. If there was anyone Sanyu wanted to be like, it was Daiki. In his youth, the young wolf-child went everywhere with his father. Whenever they went to the pond to fish, Omoni Hageshi showed up, and all of them had a nice time. His mother would bring food and they'd all have picnics for a little while, at least until his father and omomi-san had to go back to work.
As the years passed, Sanyu decided to be like his father, and join the Shino Academy, joining in classes with those about the same age as him. It was there he learned the importance of being proud of who you are and being a shinigami meant more to him than anything. He spent years practicing his craft, and like his father, before him, he became top of his class in Zanjutsu, and one of the top students in Hakuda. However; during his years in the academy the Komamura clan was given grave news; Daiki Komamura was set to join division seven, putting in a transfer, when he and 2 fellow squad mates were Killed in the line of duty.
This news completely devastated the young man, leaving him a shell of what he once was. His grades dwindled; the world in his eyes went dark as if it was shadowed by another planet. It no longer mattered... Good grades, being better than others in class… none of it brought him as much joy and pride as it once did. In this darkness he found nobody to care; who would… Daiki hadn't made a name as their ancestor, the great Saijin Komamura did… he didn't make any mark or impression in the world… or so Sanyu thought.
After graduation, Sanyu was assigned to Captain Itsuki Asakura of Division seven, and his first task was to secure and patrol his father's old prowling grounds... Northeast Rukongai, District 73. There, he was immediately recognized by people, however, it wasn't him they remembered, it was Daiki. Sanyu was swamped overall, people of all ages telling them about the wonderful things his father had done for them when he was alive. "The Nightwolf is back!" some yelled. When Sanyu explained to the people of the rukon he was not Daiki Komamura, but rather his son, Sanyu, it mattered not. These people believed in him because he was Daiki's son… Sanyu's eyes gleamed, and he fought to hold back tears… these people had given him something he'd not felt in a long time; Hope. A hope that one day he would make his father proud; his clan, and his Captain and fellow Squadmates.


​
Last edited: