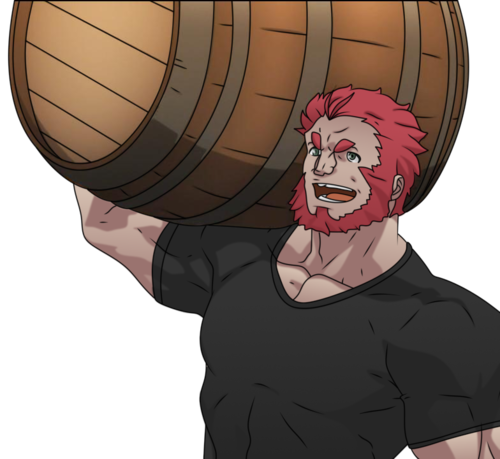 characters
: Fredrick Elbeck

The smile on his face persisted as he carried the large barrel with him, his eyes closed for a moment, as felt a wave of reaitsu, one that felt hollow. As they got closer, and closer to the restaurant a small pain was developing, one though he could manage. To him it felt like someone had given him a slight bruise, but he was able to hold in the pain once more. With the barrel in hand he would turn and look around the area, watching as some people were eating at the various places scattered about. Several people had been awe by him carrying the barrel with ease. One attempted an approach with a bat, but was quickly met by Avillio.
"So Avillio? How long have you been able to see Shinigami and hollows??"
It was an innocent question for sure. as they continued to walk by restaurant after restaurant, each one, seeming half full or full. Though he knew he had the best drinks in town compared to anyone else, their selections seemed small compared to his.
"Seeing all these resturants serving small amounts of beer makes me sad"
another laugh came from him as he stopped for a moment.
"Their selection is small and low quality compared to mine!"
He was a proud man indeed, more so that he was able to get high quality beer, along with various beers from around the world. Hard Liquir as well, and it paid to have his family around the world as well to get such deals.
"Yo, is it this way, Freddy?"
His head and body twisted around to see the tail end of three people running away. Then his head and body twisted around for a moment, as the realization of both them getting closer to the restaurant and the source of the reiatsu would be at the same location.
"yes it is, and the smell of good food is in the air, and its coming from there!"
his pace would pick back up as he came to the end of the street, there he spotted the restaurant named the Jigokudaidokoro, from the looks of it, the place started to gather people. There he couldn't help waltz right in, with the barrel of Mead, and plopping it down right infront of the black haired girl, to which her face was of shock, and she wasn't too sure what to do.
"I come bearing a gift for the owner of the restaurant,"
It was a relief to get the barrel off of him, not because of the weight but because of the pain that was coming from the reiatsu, it was clear that it wasn't a hollow in here, but something else; something he never met before.