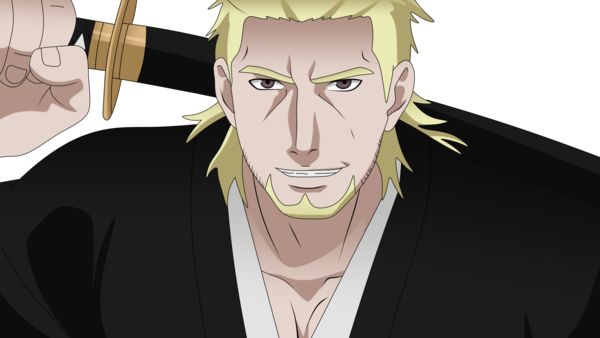 Chaos brewed within the Seireitei and now a Kōtotsu charges through the Rukongai, thanks to Kojima-Taicho's message Tenzen finally had an excuse to stop idling around. With everything that had been going on, he opted to remain neutral and tend to the weakening barriers of the Seireitei with the rest of his squad, however, this only proved to be a moot point as they weren't able to keep up with its rapid decline. Not one to waste his efforts Tenzen had long since stopped and not too long after is when he received a message on his Denreishinki. Answering it he received some rather troubling news.
"My fellow Shinigami. A big ass Kokotsu dun' just crashed our little party here in the Rukongai District. Now if you want to leave the head captain and no-brow to their make-out session that would be nice...I could use the help.."
Without a second thought, Tenzen vanished from his post and made his way to Kojima-Taicho's position with all haste. The closer he got the louder the train horn became, the destruction left in its wake became more apparent, the more he pondered on how no one saw or sensed this coming? Surely Division 12 had some sort of monitoring system in place to sniff this out before it even entered Soul Society. Unless they were too occupied by Omnikitsudo surrounding their barracks much like they did Division 5. Tenzen's paranoia and overthinking were starting to get to him when something white falling from the sky caught his eye, Kojima-Taicho's Haori that he cast aside. He moved towards it and placed it in a small cubed barrier. With the barrier hovering above his palm he looked down below to see the inhabitants of the Rukon scattering away from the area in a panic, surely the Haori would have been trampled in the chaos below and to Tenzen it is too prestigious of a garb to be trampled underfoot.
Whilst pondering how he could slow the Kōtotsu he caught a sense of Kojima-Taicho's Reiatsu. He made his way to his location on the drop of a dime, appearing far enough away from him not to be a distraction, and still holding his Haori in the cubed barrier. He arrived in time to watch the Taicho work, observing he could somewhat understand his line of thought, divert the thing underground. For the time being, he figured it would be best to introduce himself to the Taicho and as he inhaled deeply to announce himself he froze. The Taicho already knows he's there so why announce himself? Would it be rude not to say anything at all? Yelling out loud is really a pain and tiring. What if he gets scolded for just watching and doing anything? What if he gets yelled at for taking the time to save his Haori, something that could be replaced while lives were being lost. His mind began to spin wildly before he settled himself down, these thoughts all happening in a matter of three seconds or so before he was calm again.
"Tenzen Oda of Division 5 here and ready to assist in any way you need me to!"
Was that too formal, to direct? While waiting on a response from the Taicho Tenzen had nothing but time to wonder if his greeting was too awkward or not, winding up a knot of anxiety in his gut the entire time.