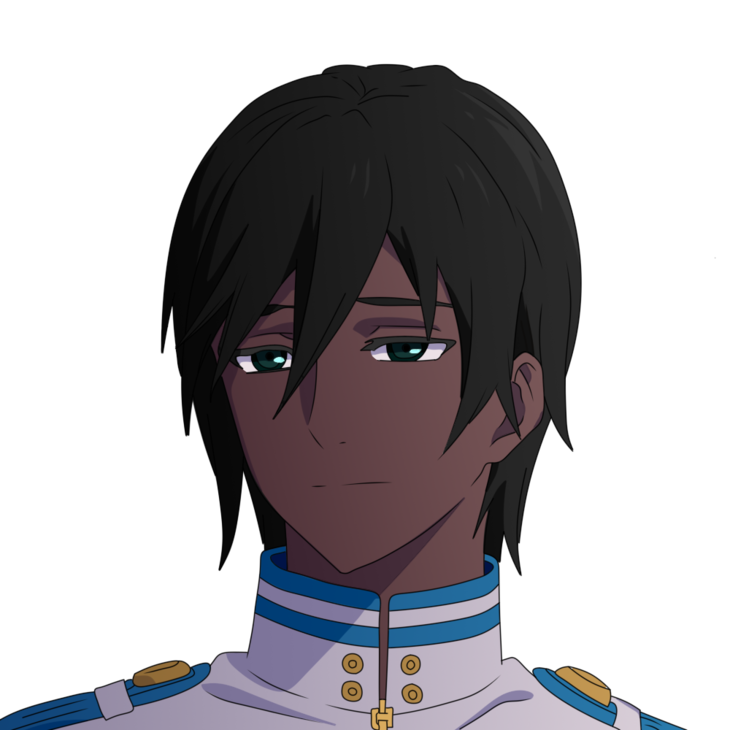 "I train like this to one day become an MMA Champion, not to kill Shinigami."
"You want some more?"
"I'm not going to be a legend. Neither will my hands or feet. But they will destroy gods."
"Being born a regular human would have been nice, then I could focus more on becoming a world champion."

Character Name:
Dominic Kaiser
Physical Age:
29
Race:
Quincy
Quincy Type:
Pure-Blood
Birthday:
February 27th
Gender:
Male

Height:
5'10 (172cm)
Weight:
212 lbs
Blood Type:
B

Affiliation:
Human World/Wandenreich/Diamante Family
Title:
Sternritter
Occupation:
Professional MMA Fighter (37W-0L) (3 Championships) (Retired), Bodyguard to Blume
Letter:
E The Energy
Team:
Diamante Family
Base of Operations:
Karakura Town

Personality:
Once upon a time this young man was hot headed and arrogant as he believed his physical strength and technique to be superior to all others around him until it was proven false. Since then he has mellowed out, calmed down and become more of a considerate person all around. A soft smile always present on his face hides beneath it the same arrogant and vain youth he used to be. Perceived as a pleasant person to be around he shows nothing but a humbling respect for others as well as proper manners. His respect and manners extend outward into his combat as well with his ever present soft smile taunting and pestering his foe.
While he can slip back into his more arrogant nature he is quick to reel it back in and put a lid on it. Taking time to filter his thoughts before speaking he also has a bit of tact when engaging others in conversation. As much as he would like to "be blunt" he understands such an aggressive way of speaking can create tension or cause conflict. Though, should the opposing party be the first to speak out of turn or speak bluntly all bets are off as he will out match their rude behavior ten-fold in an instant.
Dominic still maintains his "never back down" mentality, he will march forward but never retreat even from his own ideals. If he gets into a fight and begins to lose it he won't turn tail and run, he will endure it until the bitter end, the same goes for any sort of trivial tasks that he may end up in. With all this combined it makes him a hard person to use, trying to make him into any sort of minion or proxy will never go well because as soon as he figures it out he'll abandon whatever it is he's doing and he'll turn his ire towards the person trying to use him. That said he is entirely unknown to the fact that his Uncle is using him to live vicariously through him, perhaps being raised by his uncle has left him blind to this. Ultimately he hates people who use others to do things they can't or refuse to do because of their own weakness.
Relatives:
Astor Kaiser (Uncle/Coach/Master/Deceased), Deceased Parents

Reiryoku Level:
Vast Spiritual Power
Born as a pure blooded Quincy he was gifted with a large amount of Spiritual Energy to start with and this energy grew during his youth as he trained to become a mixed martial arts champion. He thought he had plateaued only to realize that if he had trained as a proper Quincy he would have surpassed this ceiling long ago. These are simple reflections of the past as he now stands as a proper Quincy, one with a level of Reiryoku that is on par or perhaps surpasses that of Captains or Espada. This power is used in service of the Diamante family and more specifically in service Blume Diamante. He stands as one of the representations of strength that stand under the Diamante banner, a sign of strength that is both a sword and shield.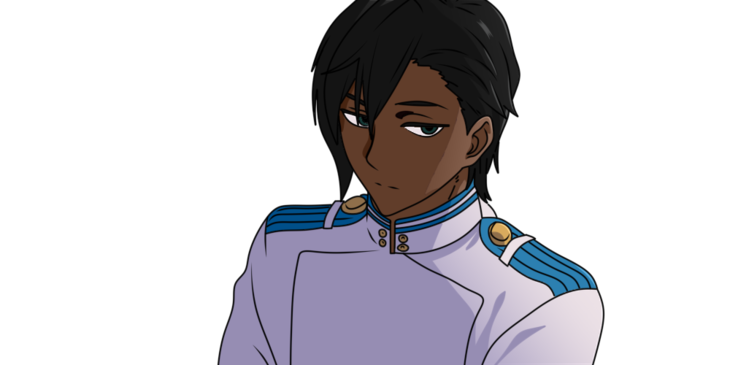 Sensing Reiryoku:
Expert
Once a person has been in enough fights they start to get a certain sense that lets them know how strong someone is just from looking at them. The way they carry themselves, the way they walk, etc. For Dominic sizing up an opponent before a fight is quite normal after participating in so many amateur MMA bouts, he has learned how to sense a strong opponent before even fighting them, even if it's through a TV screen. This has honed his Reiryoku senses quite nicely as well letting him size up his possible opponents from a distance while out of sight. Be it Hollow, Shinigami, Fullbringers, or even fellow Quincy he can make out each of their unique fighting styles by sensing their flow of Reiryoku alone. Once he has gathered enough info he can create a counter to them on the fly. If allowed more time to study an opponent his senses can pinpoint the timing of strikes, breathes taken between each strike, how long their openings last, footwork, swordplay, and more. Needless to say the longer he "stalks" a potential opponent or the longer a fight drags out he'll slowly but surely learn each and every one of their tactics and battle habits.
Reiryoku Control:
Mastered Control
Controlling his stamina output and training his endurance his Reiryoku has been honed with similar diligence. Like a speedometer, he can throttle how much Reiryoku he pours into each strike and like a fast exotic car he can go from 0 to 60 in a moment's notice. A seemingly weak attack can throttle up to a knockout blow just millimeters before making contact. This will also be done to throw off opponents by changing the strength of blows starting off high then dwindling it down to weaker and weaker attacks only to unleash a hellacious strike that is stronger than the original starting strength. With his Reiryoku control focusing more on physical enhancements it allows him not to burn through it as fast letting him draw out the fights longer until he has fully researched his opponent. Such control allows him to go about his daily life without being detected by other spiritual beings as he will jog right past Hollows or Shinigami and not even glance in their direction while they are also none the wiser about what he truly is.

Reiatsu:
Master
As stated earlier, when a person has been in enough fights they can tell how strong a person is by just looking at them, but with Dominic, it is felt. Similar to being crushed in the palm of a giant there is an oppressing weight to it then comes suffocation. His Reiatsu is used as a declaration of war like taking a mic and trash-talking his Reiatsu stands to belittle and put opponents off their game. Even the surroundings aren't spared as the ground cracks along with fractures forming on surrounding buildings, although, he displays enough control over his Reiatsu not to outright destroy buildings. Dominic usually doesn't release his Reiatsu unless he is challenging a specific opponent or using it to ward off another source of Reiatsu.
Reiatsu Colors:
Electric Blue
Reiatsu Effect(s):
Stunning
-
Paralysis
When Dominic does openly declare a challenge to an opponent he will hit them with his Reiatsu, it serves to test the waters and see if his desired foe is even strong enough to withstand his Reiatsu in the first place. Those who cannot withstand it feel shortness of breath and are quickly pinned to the ground either flat on their face or dropping to their knees. Those who can withstand it will feel like the air has thinned while also feeling the sense of having gained a bit of weight. Naturally, these can be canceled out by equal or greater Reiatsu but if it isn't canceled out then Dominic will let up. Like a ref telling him to back off to his corner, he will halt his Reiatsu if he notices his desired target can't handle it.
Reiatsu Type:
Standard Type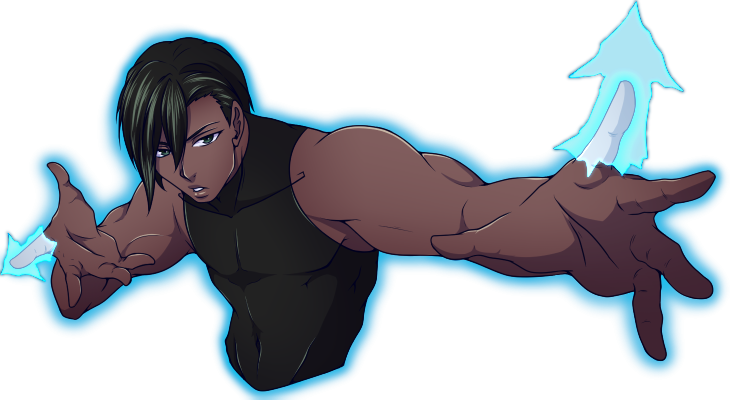 Marksmanship Level:
Expert
The one aspect of his Quincy training that took the most time to develop was his Marksmanship as he never favored using a weapon. In his youth he considered his body to be his weapon, his only means for offense and defense but as he grew he trained to become more adept at using Heilig Pfeil. Starting with a normal bow and arrow and eventually graduating to the point of constructing his own bow from Reishi Dominic would encounter a bizarre twist of fate, a twist that benefited him greatly. Always considering his body as a weapon along with mounting frustration of a cumbersome bow he managed to fire Heilig Pfeil from his hands. Finger tips, palm, or fist, these are the instruments used to fire his arrows and every single one carries strength enough to defeat towering foes in a single blast. His physical strength that allows him to quite literally punch off limbs translates itself well into his Heilig Pfeil as his rapid fire arrows will blow away limbs and chunks of an opponent's body until there's nothing left.
Just as easily as he could pull his punches the same is done with his Heilig Pfeil as he "stun" an opponent by firing an arrow that seemingly penetrates them leaving a scorch mark on their body. This stunning effect is similar to being struck by a rubber bullet or bean bag as these arrows are meant to disable or knock out an opponent rather than kill them outright. Then there is the aforementioned dismembering strength of the arrows followed up by the moments when Dominic puts his full strength into them resulting in his target being vaporized. His foes could have sections of their body or limbs vaporized into ash with nothing to recover.
Known Techniques:
None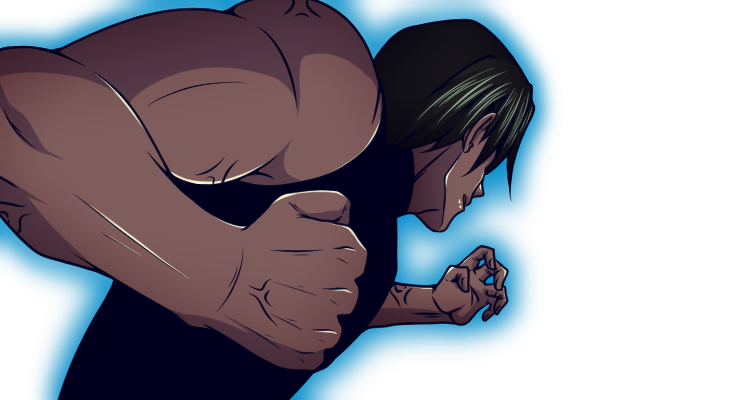 Hand to hand Combat Level:
Master
From a young age, Dominic fell in love with hand to hand combat ever since the day his Uncle enrolled him in a Judo class just to learn basic self-defense. Sadly, for his uncle, that would the event that made the young man forsake most forms of the Quincy trade. Punches, kicks, grapples, and submissions name it and Dominic has mastered some form of it while practicing and studying on it like an exam for a master's degree. He has studied multiple varieties of martial arts, from the basics of Judo all the way to the varying branches of Kenpo. With such a valuable skill set he took the time to learn anatomy as well, the natural weak points of the body that cannot be protected by muscle or fat we the focal point of his learning. With his knowledge and skillset, he can take down most foes before they can even gather what is happening. His 3 wins and 0 losses in his professional career all came from a single well placed punch to one part of the head or another.
Beyond the realm of humans, his hands and feet can take down the most vicious of Hollow's no matter their size. He will break them down bit by bit until he can deliver the fatal blow that is needed. Even a Shinigami armed with their Zanpakuto makes no difference to him, staying close range and giving them no room or chance to swing their blade. If the said blade was swung at him his Blut will always be ready to respond. His technique combined with his strength also allows him to punch through opponents or even "punch off" limbs. Most of the Hollows defeated by him usually lose a limb or two before having their head blown off by a kick or punch. If small enough he could use a variety of submission to pull his opponents apart or squeeze them until they "pop".
Hirenkyaku Level:
Expert
A skill that was once used to close the distance between him and his opponent so that he can attack with melee is now used to displace himself at a moment's notice or create distance in order to use his Heilig Pfeil. He will create after images of himself that will surround his opponent from all sides before finally firing off arrows from all angles. This speed is also used as bait while he continues to create distance he creates the perspective that he favors range over all else. When an opponent falls for this the gears change, his once retreating like maneuvers become aggressive as he advances forward using martial arts like footwork to close in on a foe and bring them down with his tried and trusted hand to hand work. Still maintaining his ever resilient stamina he can keep up these dazzling spectacles of speed for what seems like eternity.
Known Techniques:
He can make a sizeable platform for travel that can carry up to 3 people, himself included.
Blut Level:
Master
Dominic got a bit carried away when mastering his Blut as he can use it to even protect his internal organs from damage. While he has no real particular interest in fighting Shinigami, aside for the challenge of it, he understood that he may be forced into a fight with them or Arrancar. With that in mind, he went the extra mile to ensure his body can be fully strengthened or protected. With his Blut reach down to his internal organs he is protected against internal bleeding, organ rupture, and most importantly his brain. Being a hand to hand expert and an MMA fighter outside of his Quincy life he understands what happens to the brain when taking a blow to the head, the shaking and damage that can happen to it to be exact. With his Blut, he can outright cancel that adverse effect while keeping his brain in perfect condition. He is also able to use it to protect the inside of his mouth, nose, and ears which are all viable openings to take sudden and unsuspecting damage.
Then there comes offense as if his Reiryoku enhanced strength wasn't enough his Blut enhanced strength makes him into a completely different monster. His hands become like spears, his kicks like a scythe and most dangerous of all is the ability to "dig". This isn't to be confused with digging into the dirt but rather digging into another body. Muscles and fat are proper natural defenses against hand to hand combat but when enhanced by Blut Dominic can strike such beings and "dig" past these defenses to strike at bone or organs that lay beneath them. This "dig" ability has the potential to damage muscles but that all depends on the opponent if they are a hand to hand fighter like Dominic they may be spared of damage.
Lastly, thanks to his Quincy training and his already absurde usage of Blut he managed to master the usage of Blut Vene Anhaben (German for "Wearing the Blood Vein"Viz "
Blood Vein Outer Shell
") an ability that allows Dominic to extend his Blute Vene outside of his body to create a dome like structure around himself and whoever is grouped up with him. This dome can protect its inhabitants from high level techniques of his enemies. However, this is more than just an ordinary dome construct; in fact, it consumes everything around it to maintain it's form. Reiatsu, the ground, techniques that may linger in the air and even living material are subject to consumption of this barrier. It would not be odd for Dominic to use this in an offensive manner, extending his Blut out from his body and into an opponent only to activate Blut Vene Anhaben from within them. Dominic also refers to this ability as Vorhang der Kaiserin (lit. Empress's Curtain) as it is an ability he tends to employ when protecting the Empress and/or her family from needless harm.
Known Techniques:
Blut Arterie, Blut Vene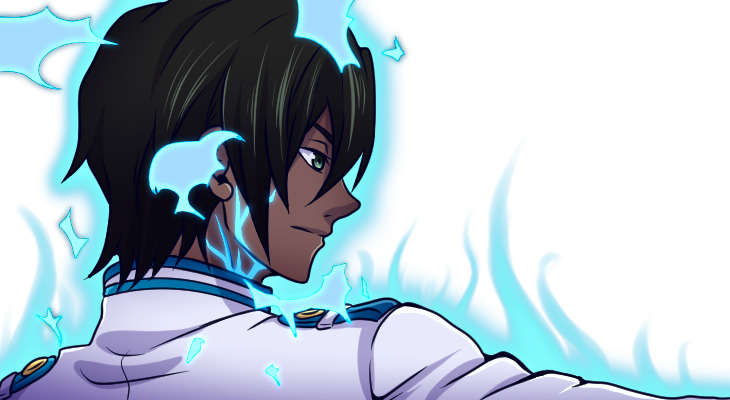 Reishi Manipulation Level:
Expert
Becoming a full fledged Quincy means they must have solid knowledge of how to manipulate Reishi. As a pure blood Dominic had no issue learning how to control it and use it to his advantage since in his youth he was able to disrupt opponents reishi platforms and only ever used it for use in Hirenkyaku and Blut. As he grew older and trained to become a proper Quincy this skill grew, becoming less about manipulation and reaching into the realm of control and domination of Reishi. All items composed of Reishi fall into his dominant control, although he only ever enacts this on inanimate objects. Learning about what it means to be a pure blooded Quincy he will never enact techniques such as
Sklaverei
which enslaves Reishi and can even tear it away from spiritual bodies. To do that entails Dominic taking that torn away Reishi into himself and thus removing his purity. His degree of Mastery allows him to tap into this skill, however, the only thing stopping him from using it is his pride as a Pure blooded Quincy.
The two abilities He does make use of are the Blue Flames and Kirchenlied: Sankt Zwinger (German for "Church Hymn: Saint Ward", Japanese for "
Holy Chant: Sanctuary Veneration
"). Kirchenlied: Sankt Zwinger is a Quincy spell, to be precise it is the single greatest protection spell of Quincy offense and defense. Roman numerals are generated on the outstretched hand of Dominic which then create several towering pillars of Reishi that take the shape of the Quincy Cross in a circle around Dominic. Anyone who steps foot inside of this protection spell after it is cast is struck down the moment they do so by "the light of God". When not worrying about protection Dominic will use the Reishi around him, sparking it like flint and stone until embers surround him and violently erupt into a pillar of flame that burns away all around him leaving only scorched or singed land. Being a Mixed Martial artist at heart Dominic will wreath himself in this flame adding even more damage to his already devastating blows. His usage of these Blue Flames are ingenious from direct blasts of fire, to orbs of flame that explode on contact or when a target strays too close.

Skills and Abilities:
Adaptability:
It is said kids have an impressionable mind and soak everything up like sponges, this is a trait Dominic has retained even into his teen years. He is able to absorb information on his opponent on the fly and develop a proper counter to after a few exchanges. In addition to that, he can learn new fighting styles this way as well which is how he has amassed such a large repertoire of Martial Art styles. If he discovers a new style which he has taken a liking to he will study it or the person using it until he can replicate it himself based on memory alone. This adaptability lends itself well in other instances as well in which it allows him to understand an opponents abilities and decipher them. Be it Zanpakuto abilities, Hollow powers, Fullbring or even fellow Quincy powers once he has been exposed to it long enough and can adapt to it the understanding of the ability will follow and so will a counter to defeat said ability.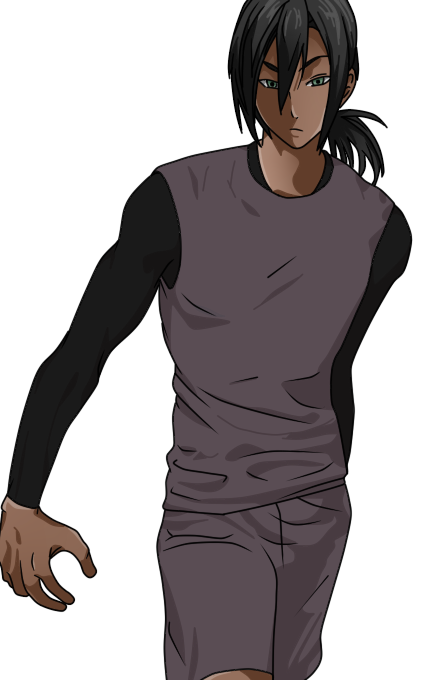 Physical Training:
Dominic has trained his body to reach levels of strength and endurance that are unheard of. While fighting as a human, no spiritual enhancements, his strikes are strong enough to damage bone or cause internal bleeding from a gut punch. Boxing matches have a total of 9-12 rounds, needless to say, Dominic has developed the endurance to go for double that amount or more. He has trained himself to never tire and to dominate his foes with speed, strength, and precision.
Inhuman Reflexes:
Imagine striking at an opponent's head only for it to vanish right before your eyes. The assumption of decapitation seeps into the mind tricking you into believing you have bested this man in a single blow. The mind plays dirty tricks as you quickly find out and
SEE
that the head never left his shoulders and remains unharmed even. The reflexive speed Dominic can move parts of his body is inhuman as they completely vanish from sight for a brief moment only to be seen once it has been repositioned out of harm's way. Arms, legs, upper body, and of course the head are all capable of this feat. These blindingly fast reflexes also lend themselves into his striking as when he throws a punch his arm vanishes from sight, making it unreadable to eyes not accustomed to watching high speed movements such as Shunpo, Sonido, and the like. These unreadable strikes are nigh-impossible to guard against as one could guard for a left hook only to receive a straight jab or uppercut.
Inventions:
No inventions

Equipment:
Quincy Cross imbedded in his right palm, Quincy Medallion
Sanrei Glove:
Dominic owns a Sanrei Glove but does not use it.

Spirit Weapon Name:
Dominic has no need for a spirit weapon as he uses his hands to project his arrows.

Quincy: Vollständig:
Quincy: Vollständig Appearance: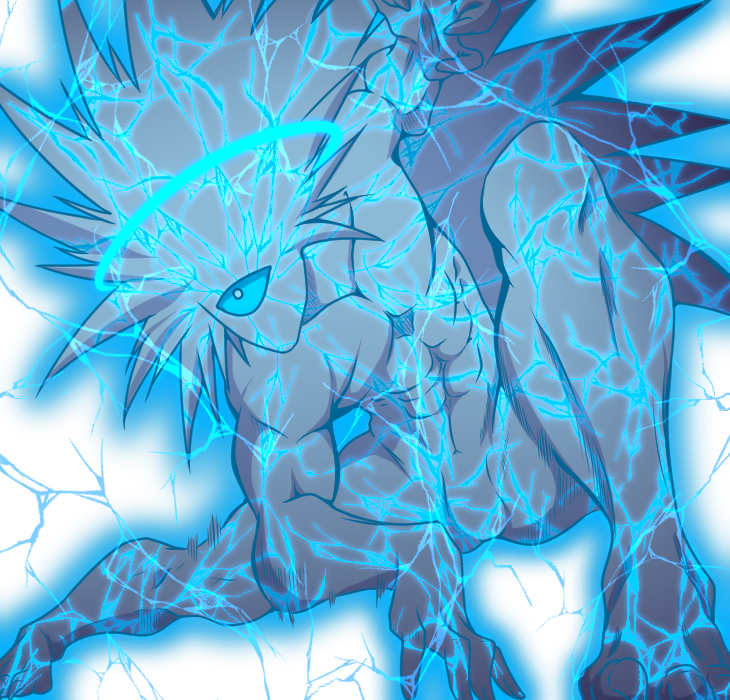 Dominics Body is covered in an electric blue membrane that is covered in capillaries and other veins from head to toe.
Quincy: Vollständig Activation:
Geist Gottes: Volle Kraft
(Lit. Spirit of God: Full Power)
Quincy: Vollständig Special Ability:
Vollständig Special Ability: E-The Energy, this is Dominic's Epithet which he himself embodies. Strength of energy, endurance of energy, speed of energy, and the destructive capabilities of energy. His body is coated in a Reishi membrane to which then has vein like patterns running all over it as if it were some sort of absurd circulatory system. These vein's spread to even his wings and parts of his hair which causes it to stand on end. These veins are an extension of his Blut.
What his Vollständig grants him is augmented speed, strength, reflexes and the ability to fire off more devastating Heilig Pfeil. Upon activation energy arcs off of his body and into the ground, super heating it and gouging it out leaving red molten traces behind, these arcs can be released at will by Dominic.
Augmented Strength: Dominic's strength is nothing to scoff at when he is in his base form, the feats he can accomplish with it are phenomenal, but, while using his Vollständig it becomes so much more. Every punch and every kick has the strength to knock an opponent off balance and off guard. While it does not hit directly the residual energy from every attack destroys the environment behind the opponent he has struck. This strength can allow Dominic to ragdoll the mightiest of foes and send them hurdling across the battlefield like a misfired cannon ball. The last statement is not simple wordplay, a technique he calls Umhüllender Geist (Lit. Enveloping Spirit) will envelop his opponent in volatile Reishi and propel them away from him after he has struck them. If they collide with a solid object or whenever Dominic wills it that energy enveloping them will explode causing immense terrain damage and even more damage to the one enveloped.
Augmented Speed and Reflexes: While using Vollständig his Hirenkyaku becomes useless, not because he is unable to use it but rather because it is slower than what he is capable of doing now. Propelled by the very energy he embodies his speed turns his body into a smear of electric blue light. His foes must be on guard as when they see the smear of light he is, most likely, already in position. Just as it takes ten minutes for the light of the sun to reach earth so too does the light of his movement take time to reach his opponents eyes. His inhuman reflexes persist in this form as well amplified by his speed which will often give off the illusion he has been struck by an opponent only for them to realize he has already avoided or blocked the attack and countered.
Augmented Heilig Pfeil: Dominic's Heilig Pfeil no longer resemble arrows as they take the form of concentrated energy waves. Using Heilig Pfeil drains this form faster than he would like and so he opts for close quarters techniques rather than range.

Facts & Trivia:
-Dominic likes to jog at night in order to find a Hollow to "spar" against.
-Aside from watching all sorts of MMA competitions he enjoys reading Martial Arts themed Manga and watching Anime with a similar theme.
-Although he maintains a healthy diet he has a crippling addiction to french fries which he has to sate every now and again to keep the thought of them out his mind.
Likes:
Cool Summer nights, Long road trips, Watching any sort of Boxing or MMA event
Dislikes:
Sitting still for too long, repetitive noises
Hobbies:
Outside of fighting he likes to collect trading cards from all sort of games, he enjoys the artwork on them
Favorite Food(s):
French fries, he isn't much of a picky eater outside of that.
Notable Features:
He has no notable features.
Theme Song:
Rubble Kings Theme (Dynamite) by Run The Jewels
(This is also the song he used as his entrance music during the final stretch of his career before retiring.)

Character Appearance:

Last edited by a moderator: